The 8 most comfortable heels for all-day wear
Work, weddings, and weekend nights out usually involve wearing heels. Often, we're willing to tolerate painful stilettos and booties that leave our feet sore with painful blisters at the end of the day. Heel height doesn't need to equal tomorrow's pain (and regret). We're sharing what design elements are important for all-day comfort in high heels along with eight stylish (and comfy) pairs of heels that will keep your feet happy all day (and night).
What To Look For In Comfortable High Heels
Most podiatrists shy away from recommending wearing heels but we feel like high heels get a bad rap because of a few bad designers. Most shoe brands don't understand how to properly design a comfortable high heel with a significant heel height that also has arch support, a cradling insole (footbed), and even weight distribution. These poorly designed shoes are what lead feet to have major discomfort and the "don't wear" stamp from most podiatrists.
You might be wondering how do I make heels more comfortable? Well, not all heels are created equal and the founder of Elizée knew there was plenty of room for innovation on how to make heels more comfortable. With a focus on quality and style, Erika has solved one of the high heels' biggest problems; lack of comfort and adequate cushioning. The key to her winning design strategy is the incredible cushioned insole combined with a toe box slightly wider than in traditional luxury shoes that helps spread weight much more evenly across the entire foot. The shift in weight distribution takes the pressure off the forefoot to reduce both foot pain and back pain.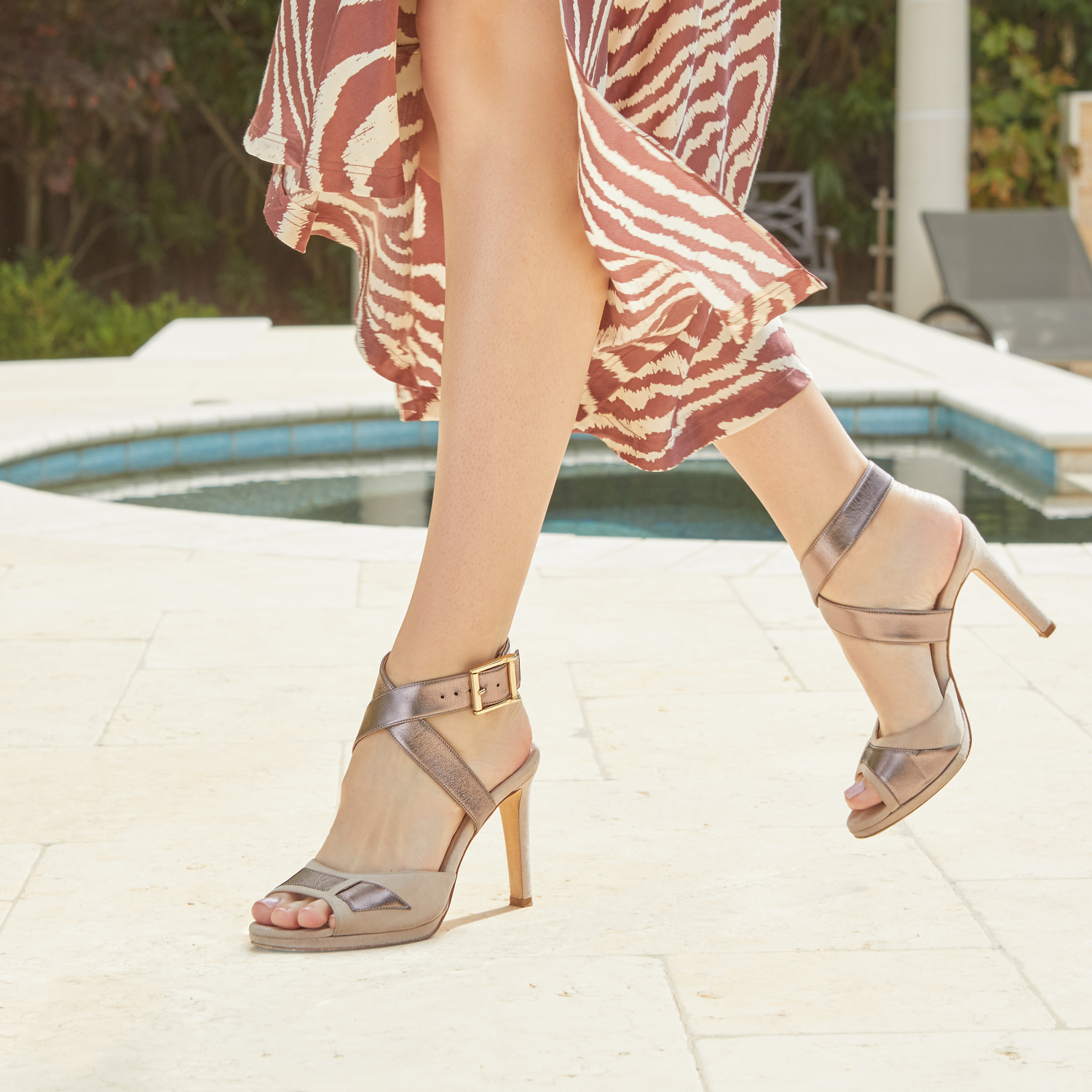 With eight beautiful styles to choose from, each Italian-made shoe features a unique triple-layer insole; a combination of luxurious, breathable leather on top of an ultra-cushion gel layered on high-tech memory foam. This innovative combination of memory foam molds to your foot and helps to cradle it in plush comfort while it absorbs the impact of your steps. This clever stacked design on top of a durable outsole has unlocked true all-day comfort.
8 Comfy Heels Across 4 Versatile Styles
Strappy Stilettos
If you're looking to add maximum height to your look then we recommend checking out stilettos. Traditional sky-high heels can quickly make the ball of your foot ache when there isn't enough arch support but thanks to Elizée's built-in stability platform, you won't have to sacrifice heel height for all-day comfort. Each of the three open-toe handcrafted heels also features a buttery soft ankle strap that was carefully designed to avoid rubbing sensitive ankle areas. "Unbelievably comfortable!" said Pamela, Elizée client, who hasn't worn heels this high in over ten years. "I haven't felt stable walking on anything over about an inch and a half heel."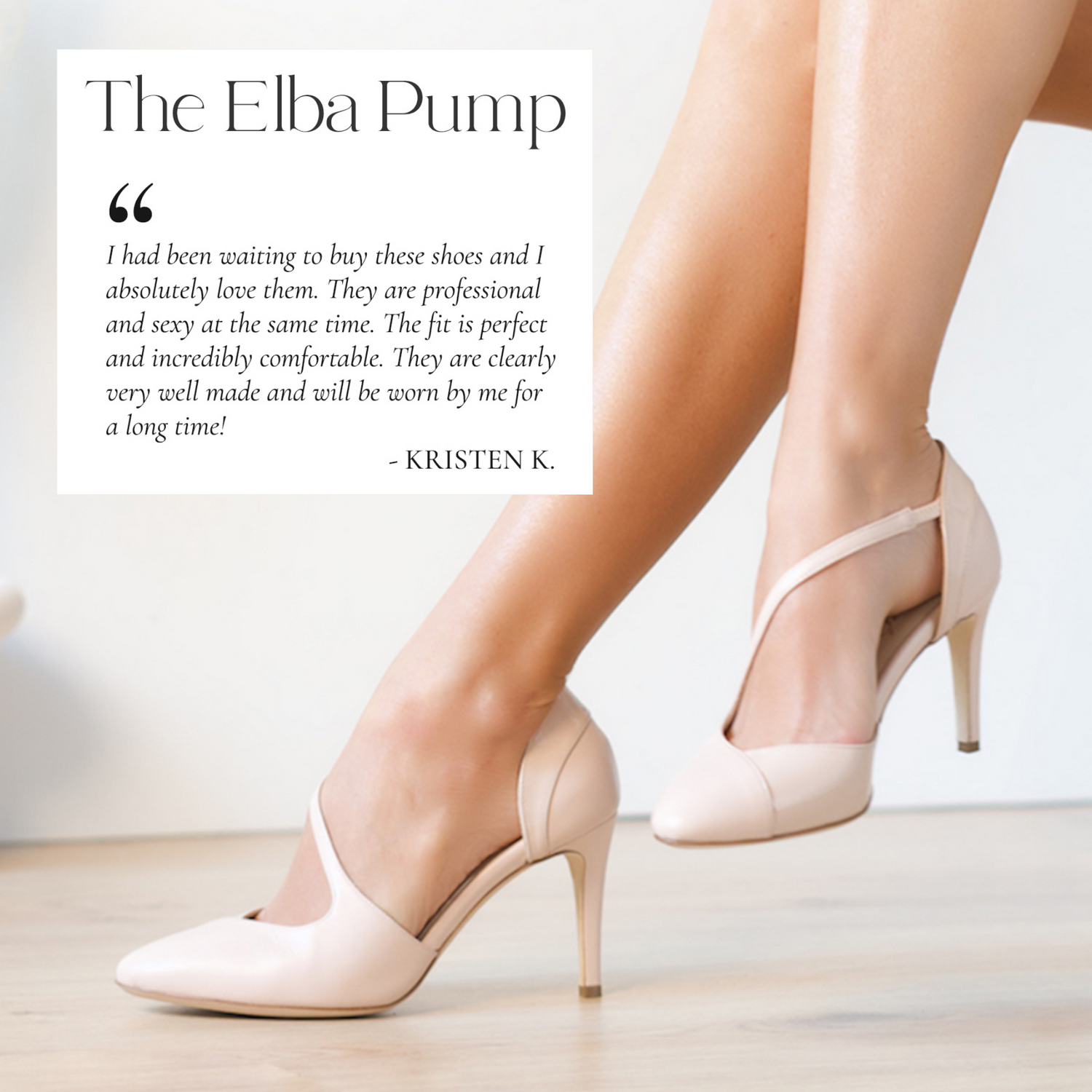 Slip-On High Heel
Are you a get-up-and-go type? If you're always dashing from one place to the next in dress shoes then you'll need slip-on pointed-toe heels in your closet. Elizée founder and designer, Erika painstakingly crafted her almond-shaped slingback heels to avoid the dreaded end-of-day blisters and intense redness on sensitive ankle areas. When your schedule is jammed packed, there's no room for slow walking or multiple band-aid breaks. Editor-in-Chief of BELLA Magazine, Vanessa Coppes keeps her day running without sacrificing comfort or style. "Spent 10 hours walking about New York City in them. Love!"
Ankle Boots
The closet staple. From a business suit to denim and a t-shirt, a well-made bootie can tie together just about any outfit. The best above-the-ankle boot is fashionable, versatile, and above all comfortable. Did you know you don't have to rely on chunky heels to experience all-day comfort?
Expertly designed stiletto boots can be just as practical to wear around the boardroom or the airport. "These boots are so comfortable...the platform makes it so that you can walk for miles in these boots. I will even wear these boots when traveling and when I know I will be walking a lot" exclaims Kristen about her favorite black leather booties. The places and outfits that pair well with booties are limitless, so no matter where you are or where you are going make sure you pair comfort with style.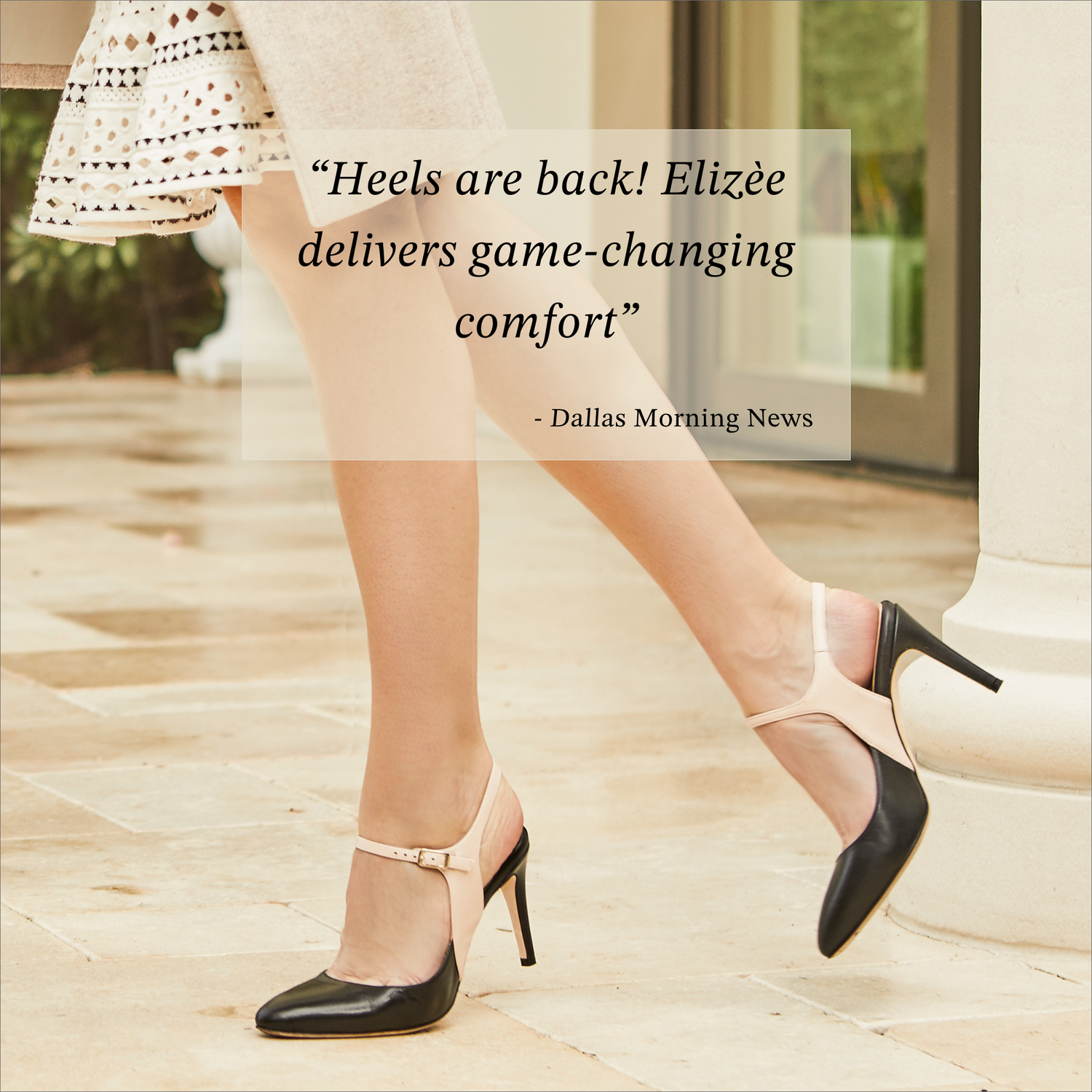 Round Toe Closed Pumps
Do you opt for a low heel (kitten heels) because you're afraid of the pain associated with taller shoes? Don't be! We're here to share that you can go higher with the rightdress shoe. Carla overcame her worries and kicked her old kitten heels aside for more comfy pointed-toe pumps. "Love! I hadn't worn heels in a long time but danced the night away in these beauties." Even better, our comfortable designer pair of heels avoid seams in sensitive spots such as the ankle bone or beside the big toe joint, where people can develop bunions or blisters.
The Most Comfortable Shoes Based On Your Foot Shape And Size
Our versatile selection of heels includes styles for every shape of foot because everyone deserves to feel and look great. While each of our styles comes in one width, some are better suited for narrow feet while others will be the perfect fit for wider ones. Here's a quick guide on how to find the best style for your foot shape;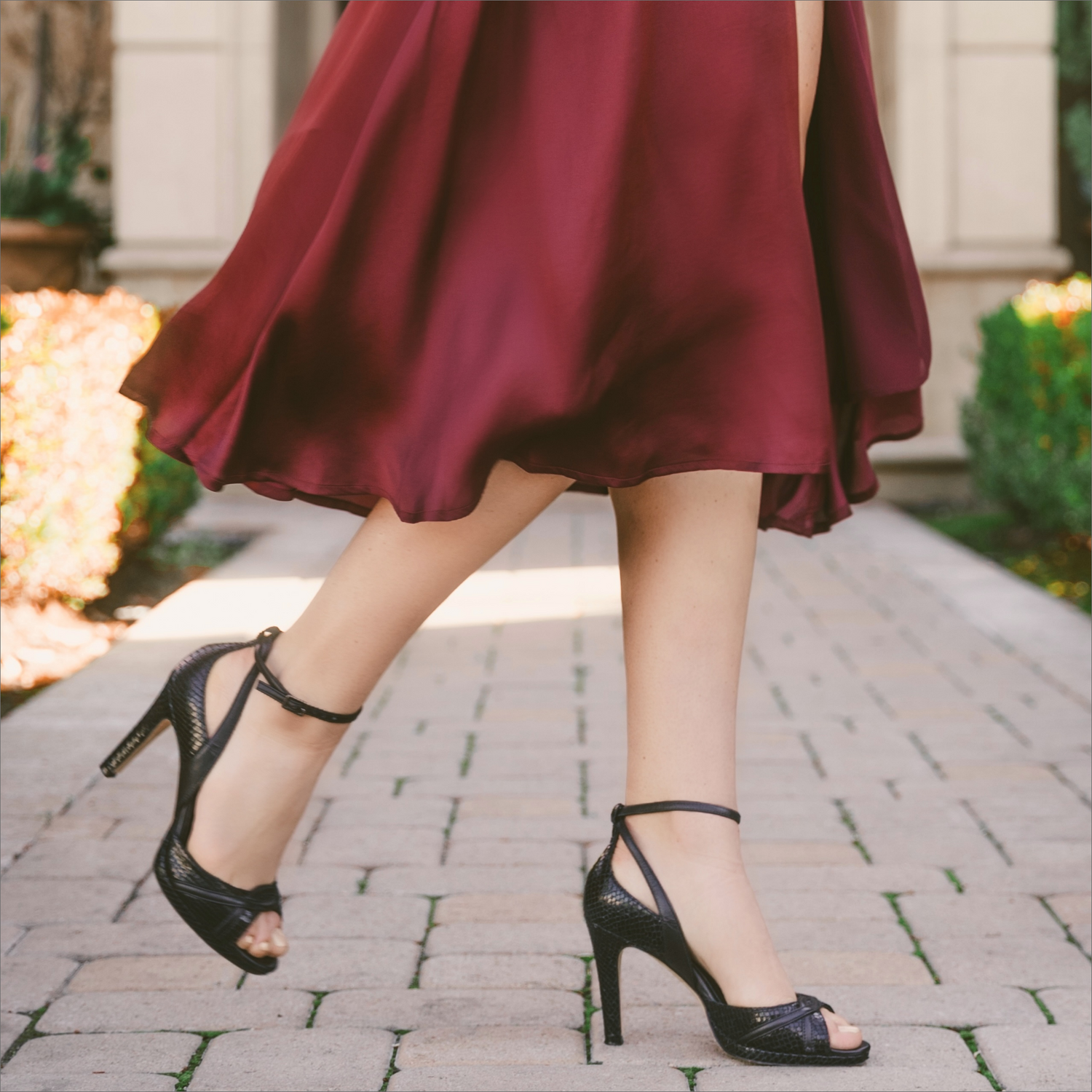 Wide Foot
For a wide foot, we recommend our Adriana or Fiorella which are two of our most comfortable heel sandals. While both styles are true to size, our soft yet strong leather lends itself to stretching. Pro Tip: take them to a cobbler for professional stretching if you need a few inches to help your feet adapt.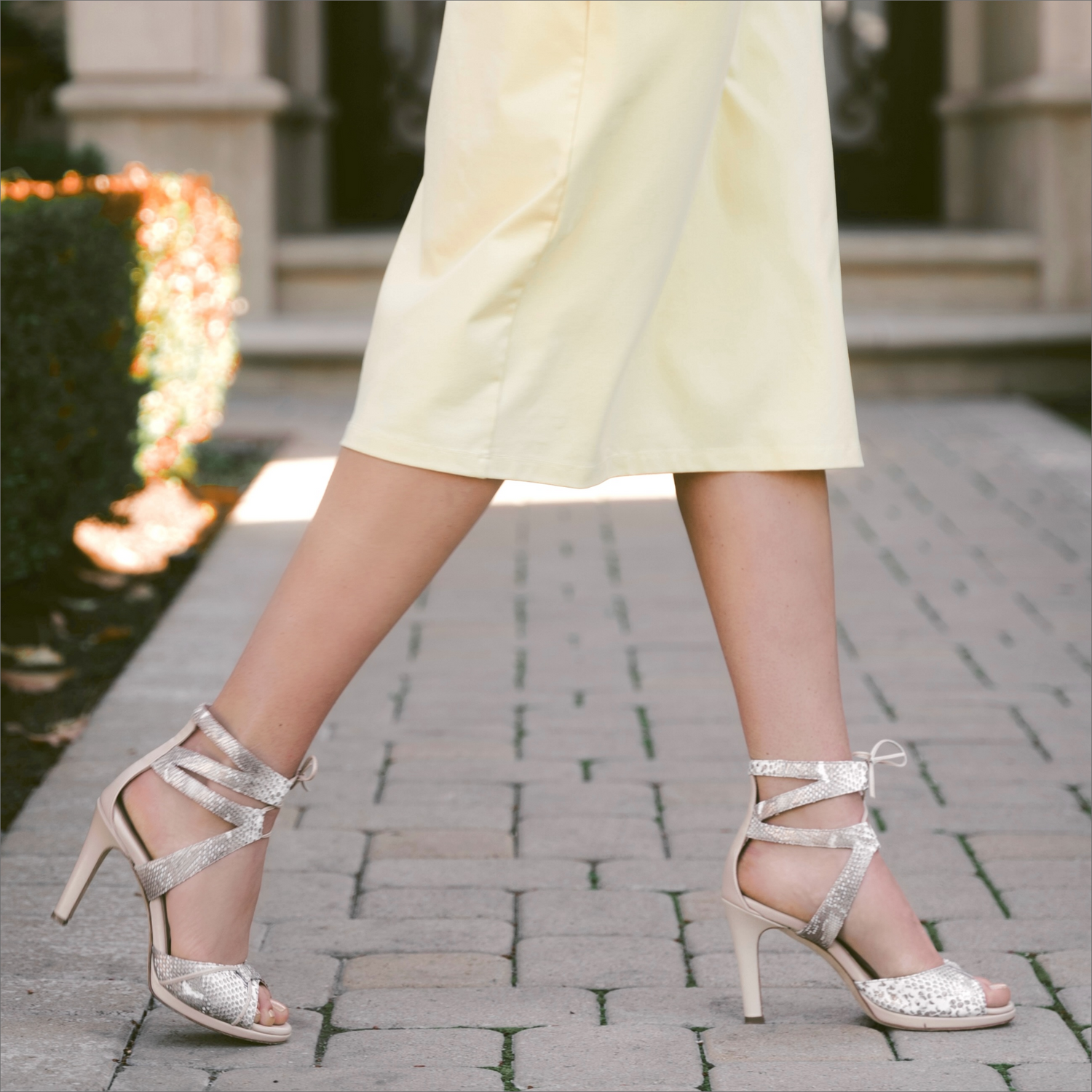 Wide Ankle
For wider ankles, we recommend our most comfortable heel Ametista. The ankle strap has beautiful adjustable laces that can easily be loosened to fit comfortably around your ankles.
No matter what your personal style is, Elizée shoes can give you the lift and comfort you've dreamed of. We empower women to take charge of their day in luxurious comfort.